complimentary webinar abolition mpf offsetting arrangement insights senior hr
[Complimentary Webinar] Abolition of MPF Offsetting Arrangement - Insights for Senior HR and Management

[Complimentary Webinar] Abolition of MPF Offsetting Arrangement - Insights for Senior HR and Management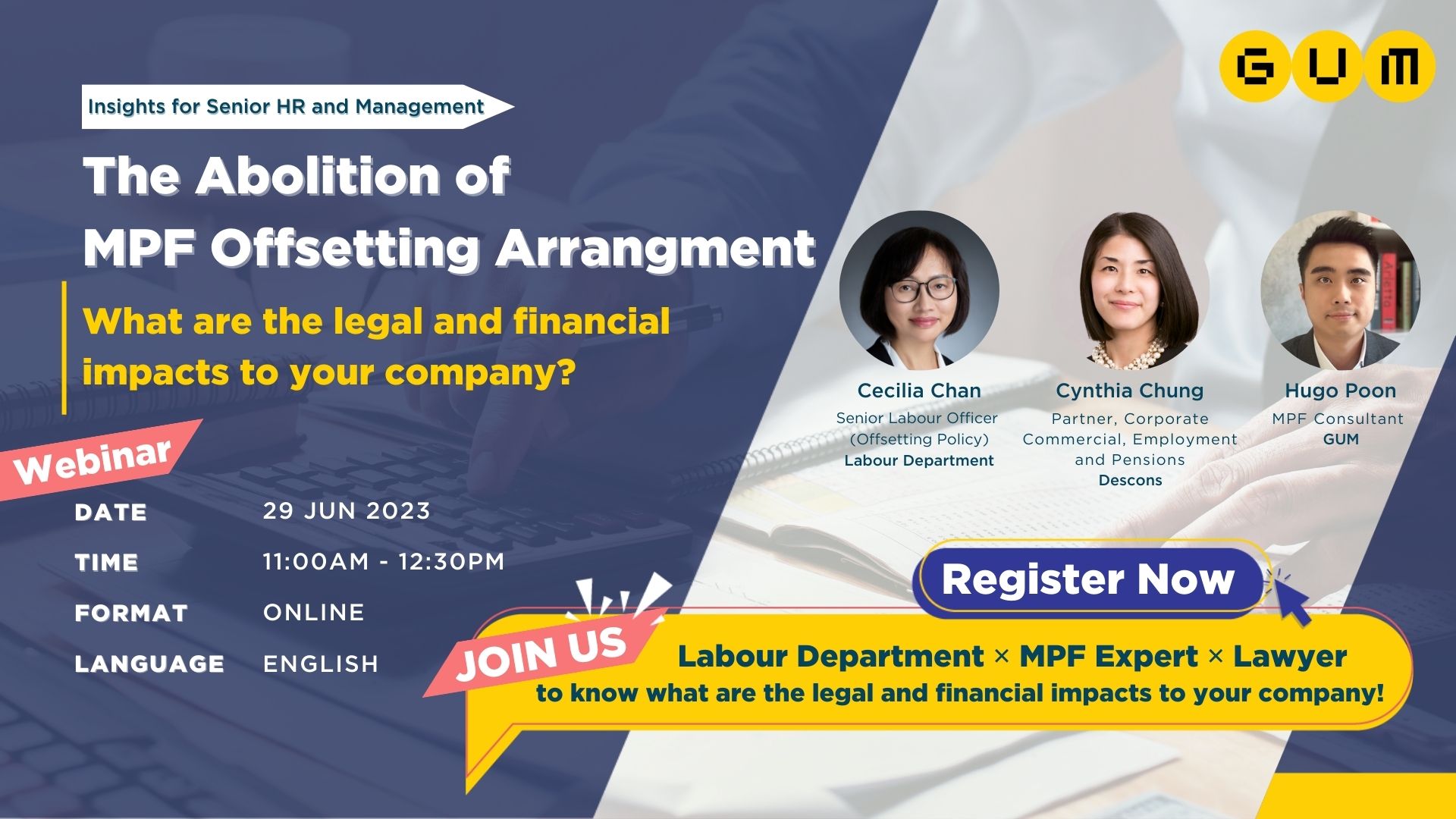 As the Chief Executive of the HKSAR announced earlier, the MPF offsetting mechanism will be abolished on May 1, 2025. With this official launch date, what are the arrangements before and after the "transition date"? Will there be any scenarios for exemption? How is the government arrangement on the subsidy scheme? Is there any impact on the abolition to the existing Employment Ordinance?
As employers and HR, what should you be preparing for? MPF Expert GUM is hosting a webinar together with representative from the Labour Department and expert in employment law to dissect the latest MPF spotlight. Reserve your seat now to learn more about the new legislation.
Register now: click here.
---
About Gain Miles Assurance Consultants Limited ("GMAC" or "GUM")
Gain Miles Assurance Consultants Limited ("GMAC" or "GUM") is a pension, actuarial, investment and employee benefit boutique consulting firm with the objectives to help employers optimize their benefit spending and help employees achieve better retirement outcomes. They focus on people and that is why they put "U" in the very core of our brand "GUM". GUM is a 50-people company based in Hong Kong with 43 years of experience, and they are committed to serve the Hong Kong companies and employees.
They are offering a wide range of services including MPF monitoring and provider management, ORSO consulting, employee communication, financial education to employees, medical insurance brokerage and employee compensation brokerage. Their priorities are always meeting the needs of their corporate clients and their employees, our strategic partners as well as all MPF members of Hong Kong. With their vast market experience and expert teams around actuarial, investment and employee communication, GUM leads the market to innovate, walking hand in hand with our clients to go faster and further.