Chairman's Note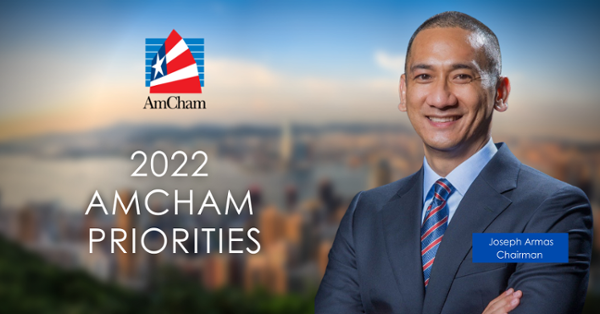 2022 Chairman Joseph Armas 
Good morning! Welcome and thank you all for joining us today virtually! I would like to start by thanking our distinguished guests joining us today: US Consul General Hansom Smith, Deputy Consul General Colin Crosby, past Chairs, former Board Members, current Board Members, and the tireless, committed staff of AmCham. Once again, I'm just amazed, and grateful at what you've been able to accomplish here. 
This year's inauguration has been a moving target for many of us. The situation in Hong Kong has gone from one where a return to "business as usual" seemed like a possible outcome, to now, where there are more unknowns and seemingly feels like we have more steps to take as a city to consider opening back up, let alone getting back to a "new normal". 
As we all know, my priorities address has been delayed several times, but as I come to you virtually, I'm excited to say that I am here in our brand-new home, the AmCham Community Hub, in the heart of Central, at the Diamond Exchange Building on Duddell Street. As the environment has drastically changed since January when we would have normally come to you, the aura of the COVID pandemic is likely weighing as a top priority in many of your minds. It is certainly part of our key priorities this year. But before we dive further into the Chamber priorities, I would first like to recognize our past Chair, Jessica Bartlett, and thank her for her leadership and service to the Chamber in 2021. As we all have experienced, it was a year that presented many challenges, but she leaves us with a strong foundation for 2022. 
Also, I'd like to welcome Geoff Siebengartner as Vice Chair for 2022 and Sabrina Lin as Treasurer, who is taking over from Anne O'Riordan, this year. Thank you, Anne, for your dedication and commitment to the Chamber. Lastly, I want to welcome our new Board Members for 2022. We have got a great, diverse group of industry and individuals represented here and I'm looking forward to a transformational year working alongside each of you. 
There is one more important item I want to mention. Our President, Tara Joseph, will be leaving us at the end of this month. She has been instrumental in the success of our Chamber over the last 5 years. She has led us through some extraordinary times while positioning the Chamber for a solid and relevant foundation going forward. I certainly cannot mention everything Tara has done in support of the Chamber, but she will leave her fingerprints across on what we've been able to accomplish. 
Continuing the transparent flow of information through our business sentiment surveys and advocacy.
Engaging our committees in a manner that add value to our membership and creating an energized group of people. 
Kicking off our Social Impact Series, which I will talk about more, that touches many areas of importance not only for our businesses, but for the society and community of Hong Kong. 
Serving as a strong voice and honest broker when it comes to advocating on important issues relating to government, business, and international relations. 
And initiating the transformation to Chamber 2.0, culminating in the opening of our beautiful new Community Hub and collaborative thinking and engagement.
Tara, thank you again for your service and dedication to Hong Kong and to AmCham. 
A Milestone Year for Hong Kong
2022 is a milestone year for the Hong Kong Special Administrative Region (SAR). It marks the 25th year of the establishment of the SAR, and of the framework of "One Country, Two Systems" in Hong Kong. In any other time, an anniversary of significance should be worthy of celebration, and bring positive feelings reflecting on the success Hong Kong has represented as Asia's World City. That said, this year has started with a huge challenge facing us. With uncertainty around testing, quarantine or isolation requirements, travel restrictions, and potential lockdown measures, the COVID situation has put enormous pressure on our community, both people and businesses. This is further emphasized by data from our 2022 sentiment survey citing over 40% of respondents are considering leaving for personal reasons and over 25% of businesses considering moving as well. 
Year of the Tiger: Resilience, Courage, Wisdom
2022 is the Year of the Tiger, symbolizing Resilience, Courage, and Wisdom. These words reflect the nature of Hong Kong and the people who live and work here. It also gives me a sense of optimism and excitement. With the myriad of global issues, we are currently facing: COVID, geo-political instability such as the conflict with Russia-Ukraine, US-China, economic sanctions, and the viewpoint of the viability of Hong Kong as an international financial center; our priorities must focus on what we as the American Chamber can do to support businesses in Hong Kong. Not just American businesses, but the international community. A net 9% of AmCham members still see an improved business environment over this year. It is paramount that we build community for business to thrive in Hong Kong. 
Resilience: Navigate Through COVID
Let's start with Resilience.
One of our most pressing priorities is navigating the COVID pandemic situation. As we begin our third year with the COVID pandemic, how we move through the year remains not just an important priority, but also a strategic one. We must remain resilient as a community to support each other through these challenging times. Regardless of the actions from the Hong Kong government, it is important that we are always striving toward constructive solutions between all stakeholders. We want to leverage the American pillars in Hong Kong of AmCham, the US Consulate, the American Club, the American Women Association (AWA), the Charitable Foundation and even our international schools to come together and offer vital and timely information, resources, and support to the fast-changing policies and landscape that are in front of us. We need to communicate regularly with the Hong Kong Government whenever feasible, to not only ensure that our communities concerns are heard, but also to leverage our vast network of expertise. We welcome this open engagement with everyone. We represent global leaders in logistics, healthcare, and community services that can provide added value in the effort to fight against the pandemic. 
While we see that most of the world outside of Hong Kong has taken a different approach with COVID, we must recognize the challenges that many of our businesses face such as: significant attrition and talent drain, manpower shortages due to testing and quarantine policies, and in some cases, permanent closure or relocation. 
Maintaining our resilience in 2022 largely falls in how we navigate through this pandemic and its impact on the economy, both locally and internationally. With the support of our Law committee, we are actively looking to re-engage more with the Hong Kong government through the International Business Committee (IBC). Communication is essential in working together to ensure our concerns are heard and to leverage our members in a constructive way. 
We must not only focus on our businesses from a tactical level but also engage our Pillars to work with and support the local Hong Kong communities that do not have access to resources such as health supplies, clothing, information, and support. Let's use our presence to show that we support Hong Kong and can make a difference. 

Wisdom: Advocacy, GBA
Next, under Wisdom, as I mentioned earlier, AmCham has a vast network of expertise amongst our members and their associated industries. Tapping into our resources provides value within the business community from not only our connectivity, but the wisdom to guide and support our members. We do this through our advocacy efforts.
Advocacy 
We will continue to make advocacy a priority in 2022.  This will serve as one of our primary areas of communication to work alongside the Hong Kong Government, US Government, the US Consulate and other chambers and business organizations. Our committees play a vital role in highlighting issues that affect business and doing business in Hong Kong. We will also lean on past activities such as doorknocks (virtual or in-person), events like our China Insight series, and monthly committee meetings to ensure that our members' priorities are represented appropriately when governments enact policy that affect our region. US-China relations will always remain an important aspect to understand for our businesses in Hong Kong. With the emerging themes of National Security Law (NSL), Rule of Law, and recognizing the Hong Kong SAR anniversary, the Chamber encourages open dialogue with Chinese and Hong Kong officials to strengthen our relationships to ensure business can continue to grow and thrive during these uncertain times. Our members have expressed increased pessimism over the strength of Rule of Law and data freedom, two areas that are seen as strengths of Hong Kong and values of our Chamber. Our advocacy will be essential in communicating this importance. 
Another area of advocacy that I would like to highlight will be in education and technology. Hong Kong is ripe with talent and opportunity in these areas. We want to drive the development of innovation and the technology ecosystem in Hong Kong. Our members have already established Hong Kong as a desired marketplace for innovation, discussion, and connectivity to highlight the changes required to ensure growth in the technology space. 
Further, ensuring that we can provide support for our education professionals and local youth education foundation by focusing on direct impact through projects and coordination with MNCs, educational institutions, NGOs, and the Government. Our Innovation and Technology committee has been very active in this space driving discussion around entrepreneurial global trends in the digital space like digital currencies, non-fungible token (NFT), and metaverse. We must take advantage with our representation in the education and technology space as there is positive sentiment that the Hong Kong Government supports innovation and research and development. This is critical for the next priority I will talk about. 
Greater Bay Area (GBA) 
The last priority in the area of Wisdom is the topic of GBA. There has been a renewed vigor around the opportunities of GBA.  60% of our business already operate within the GBA and 2 out of 5 plan to expand their operations over the next 3 years. This is significant. The Chamber will be setting up a GBA-specific council consisting of key leaders across multiple industries to work together on promoting values of not only the Chamber, but of the Hong Kong business environment to drive investment in the GBA. More specifically for Hong Kong, we are excited for the opportunities presented by the Northern Metropolis and the education and work opportunities for the young people of Hong Kong. Further, with legal and regulatory uncertainty highlighted as a top business challenge, this council will aim to focus on providing clarity and support to organizations seeking to take advantage of the opportunities that the GBA will offer. 
Courage: Social Impact, AmCham 2.0
The final area for 2022 year of the Tiger is Courage. Let me start with Social Impact.
Social Impact
Last year, our Social Impact Series garnered an incredible response and feedback from members that it is shared priority and value that we support each other and their business' goals and objectives. How we support each other, and our business goals will define "who do we want to be" as industry leaders. Why is this under Courage? I feel that focusing on these Social Impact subjects takes courage as a business to step forward and make an effort to support priorities important to people. Thus, we will continue with our social impact efforts with events focusing on: mental health, sustainability and ESG, future of work, diversity and inclusion and Women of Influence. Further, the Future Leaders program will continue again this year. I'm excited to welcome another group of rising young executives from our community to be leaders in our businesses in Hong Kong. We will also be engaging in new efforts to partner closer to the Hong Kong community through activities with NGOs, our Charitable Foundation, and member companies.  Many of our businesses rely on support from the local communities and we will make a positive impact by offering our support back to them through the numerous channels in front of us.
AmCham 2.0
AmCham 2.0 was a term that came up last year and continues to be the transformational initiative in 2022. More so than before, we embark in a courageous effort to transform the way our Chamber has operated in the past. With the opening of our new Community Hub, we intend to move our Chamber into a collaborative network focused on driving value for members doing business in Hong Kong and engaging in a constructive manner with government officials. AmCham is committed to Hong Kong with the purchase and establishment of the Community Hub in the heart of Central on Duddell Street. The space is a unique model inspired from local Hong Kong architect and designers, Gary Chang from Edge Design and Rick Lam, with Architecture Commons. Incorporating the values of the American Chamber into the locally inspired design is reflective of the Hong Kong spirit. I want to recognize Gary, Rick and their teams for their effort in realizing our concept of a community hub. Our members are committed to Hong Kong and see positive aspects of Hong Kong as seen from our latest sentiment survey. About 39% of our member companies indicated plans to increase staff in the next 12 months. I want to be able to welcome those new staff members here at the Hub. Although we face many immediate challenges now, we hope to leverage the partnerships with the American pillars, our members, and invite other business chambers to come visit and collaborate with us as we work to move forward with our priorities in 2022. 
In closing, I want to thank you all for attending this virtual address today. Our priorities are clear in:
Navigating through the COVID Pandemic
Continuing with Advocacy through our committees and the industries and segments they represent
Seizing opportunity with the Greater Bay Area
Focusing on Social Impact themes, and
Leveraging AmCham 2.0, with the opening of our new Hub. 
Which I must take a moment to quickly recognize the people that made this happen. We will plan to have an official event once the situation allows, but I want to give a big thank you to Scott Lau for his effort in leading this project along with Rick and Gary. Also, to Kevin Tranbarger for getting us organized, our contractors in Vivo and Vega, and of course our staff here: Katariina, Michael, Queenie and your teams and of course Tara to make this all happen today. 
It is my hope that together, with our priorities set, we can navigate the challenges while continuing to build on the future of Hong Kong! Stay safe and talk with you all soon!