thought leadership solutions
Thought Leadership Solutions
AmCham offers a promotional platform "Thought Leadership Solution" for companies to introduce products, services and inspiring information to AmCham sophisticated audiences. This session is conveniently held online, or at the AmCham HK office and attendance is FREE to members with pre-event registration (charges apply to non-members and walk-in members).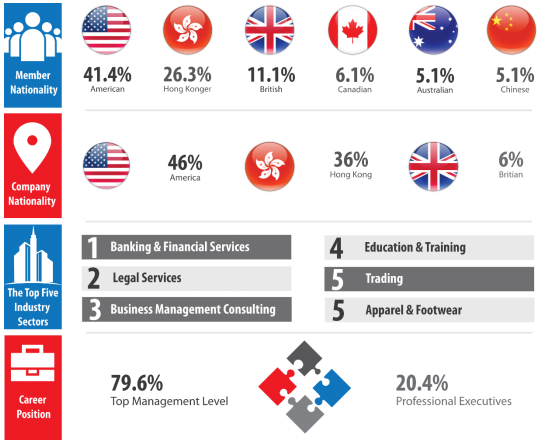 Let us know your topic and speaker, and AmCham will assist you in operating a successful Spotlight Session, including:
Set up of AmCham's conference room, accommodating to 25 – 40 people

Standard provision of audio-visual equipment 

Distribute eDM to almost 1,400 members and over 5,000 non-members

Circulate & display your marketing materials during the session

Social media promotion

Digital signage in AmCham's events networking area (on-screen banner ad placement)
Fee: From HK$50,000
Guidelines
Registration & Preparation 
Joined company is recommended to send the following items to AmCham HK:
Presentation Topic

Presentation Keynote

Biography of Speaker(s)

Other materials to be circulated or displayed during the session 
AmCham HK reviews the topic internally and replies to the joined company within two weeks.

To meet up with the Chamber's policies and members' business interests, AmCham HK reserves the rights to make final decision on the acceptance of registration. 

If the topic is accepted, AmCham HK confirms the event date and issues an agreement to the joined company.
Payment  
After the agreement is signed by both parties, the joined company is required to settle payment to AmCham HK two weeks prior to the event.
Terms & Conditions 
AmCham HK will not disclose the attendees' personal information to the joined company. However, joined company are encouraged to have networking with attendees during the event. 

Presentation materials will be distributed to MEMBER ATTENDEES only. 

To ensure that we capture all your online registrations on time before the event, the online booking system will be deactivated 48 hours prior to the event. 

An email confirmation will be sent to the registered participant's email. Online bookings will generate an automated confirmation via e-mail. 

Membership is on an individual basis. Non-members can only attend at non-member price. 

All cancellations must be notified in writing at least two working days prior to the event, or six working days prior to the conference. No-shows will be charged. 

Faxed or mailed booking forms received without payment (check/cash) will be considered void, unless valid credit card details are given as guarantee. 

When Typhoon 8 (or above) or Black Rainstorm Signal is hoisted, all events will be cancelled
Enquiries: mstewart@amcham.org.hk