Remembering Frank Martin
AmCham Chair 1983
AmCham President 1990-2004
Frank Martin was the 'heart and soul' of the American Chamber of Commerce and the American community in Hong Kong. He was wise, kind, patient and perceptive - an unusual and invaluable combination.
Frank was known as the "American Mayor of Hong Kong," which recognized his enormous contribution and dedication to Hong Kong and the American community. He was a mentor to so many of us, sharing his wisdom and experience and providing the guidance that helped keep us out of trouble, most of the time. He was always there for AmCham and for all of us - even when we didn't know we needed him.
Frank was a master of developing and strengthening relationships - with our members; the business, education and cultural communities; government leaders; and so many others. He earned their respect and was a trusted leader and adviser in banking, at HK International School (HKIS), the American Club and for many other organizations and individuals.
He helped craft AmCham's priority issues, prepare position papers and organize and lead Doorknocks and other advocacy efforts in Hong Kong, China and Washington. And he testified at US congressional committees as well as the Basic Law Preparatory Committee in Hong Kong, among many others.
Frank was passionate about providing, supporting and recognizing quality education in Hong Kong. At HKIS, for example, he played a key role in raising funds to establish the debenture program that funded the expansion to Tai Tam. One of Frank's favorite AmCham community activities was the Prize Book Awards. He invariably was the lead off speaker for the ceremony, explaining why AmCham created the award, giving a short synopsis of the book - The Americans by Daniel Boorstin - and connecting with the students, their teachers and parents.
Frank Martin was an 'Irreplaceable':
"Family man; a banker; a manager; a leader: Frank "made a difference" in this life, and we are just some of those who benefitted from his contributions." Douglas Henck – 1997 AmCham Chair
Frank Martin was awarded the Silver Bauhinia Star in 2002 in recognition of his contributions in fostering closer US-Hong Kong business ties and his services to the Hong Kong community.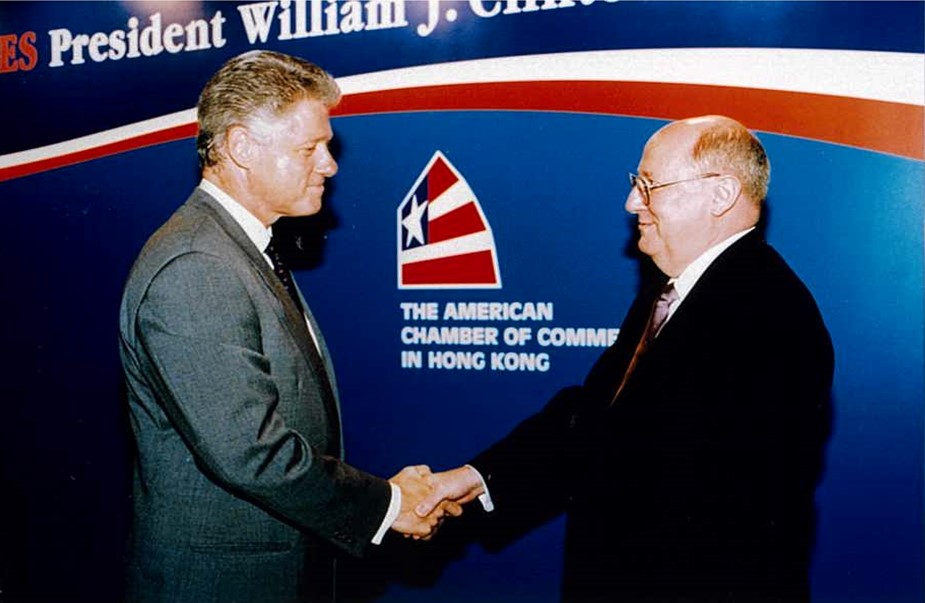 42nd US President Bill Clinton visited Hong Kong in 1998 and met with Frank Martin and other AmCham leaders.